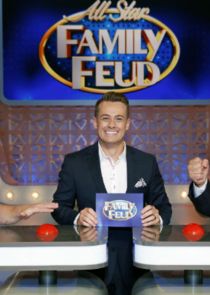 Premiered: 2016-03-14
Avg Rating: /10
Airs: Monday at 19:30
Description:
Hosted by Grant Denyer, All Star Family Feud pits Australia's best-known personalities – and sometimes their families – against each other as they raise money for charity.
Episode 2
Sporting legends of Commonwealth Games unleash their competitive streaks on All Star Family Feud with team Swimming taking on team Track & Field.
Air Date:
19 Mar 2018
Episode 1
Love is on hold in the name of friendly competition with the Bachelors facing off against the Bachelorettes on All Star Family Feud.
Air Date:
18 Mar 2018