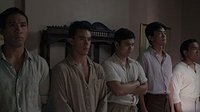 A Crime to Remember - Season 4, Episode 4
Technical
Episode Title: Paradise Lost
Episode Run Time: 60
Episode Air Date: 2016-12-27 21:00
Episode Summary: Honolulu, HA, 1931: It's a balmy Honolulu evening when Thalia Massie, the young aristocratic wife of a Naval Lieutenant, wanders out of a glittering speakeasy and winds up bruised and beaten by the side of a dark road. Race relations are already tense, so when Thalia accuses five young Hawaiian men of sexually assaulting her, the territory is thrown into an uproar. The five men insist on their innocence as Thalia and her family demand justice. But when a jury fails to reach a verdict, the previously peaceful island erupts into chaos. And when roving bands of sailors decide to take the law into their own hands, a hackneyed scheme and a trigger-happy hand will lead to the most sensational murder trial in Hawaii's history.