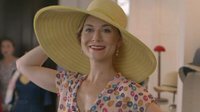 A Crime to Remember - Season 1, Episode 6
Technical
Episode Title: Who Killed Mr. Woodward?
Episode Run Time: 60
Episode Air Date: 2013-12-17 22:00
Episode Summary: New York, NY, 1955. Ann and Billy Woodward are the darlings of New York society when tragedy strikes after a drunken dinner party. Billy lies in a pool of his own blood. Ann pulled the trigger by accident...or so she says.