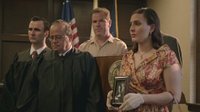 A Crime to Remember - Season 1, Episode 3
Technical
Episode Title: Judge, Jury, Executioner
Episode Run Time: 60
Episode Air Date: 2013-11-26 22:00
Episode Summary: West Palm Beach, FL, 1955. Esteemed Judge Curtis Chillingworth and his wife say goodbye to friends at a dinner party and are never seen again. Police unravel a tale of corruption and evil that leaves Florida in shock.