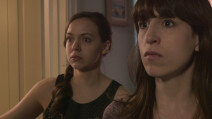 A Haunting - Season 9, Episode 5
Technical
Episode Title: Ghost Protector
Episode Run Time: 60
Episode Air Date: 2016-11-11 20:00
Episode Summary: A mother and daughter both know their house is haunted. But while the mother believes it's the spirit of her murdered boyfriend, her daughter thinks it's much darker. Paranormal experts uncover an epic battle between good and evil.